TOP Message
Exploring the Leading Edge Together with Clients NS Solutions Corporation
Facilitating business growth in the age of digital innovation
Digital innovation based on cutting-edge IT expertise—this gives the decisive advantage that clients in the current market need and that we at NS Solutions can provide. We bring outstanding integration capability to the table. Always at the forefront of system development as well as operation and consulting services, we have created a track record of successful tailor-made solutions for a wide range of clients. We are now building even more intricate, long-lasting partnerships, helping clients to address complex management challenges and facilitating the discovery and development of new markets.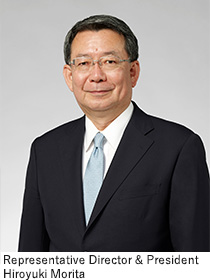 Steel is in our DNA, and we develop self-motivated human resources
We grew out of the Information Systems Division of Nippon Steel, a major IT user. Advanced technology and solid know-how backed up by reliable systems are required to produce high-quality steel around the clock, 365 days a year. These capabilities are reflected in what might be termed the "DNA of steel" that informs our management policies and fuels NSSOL's unparalleled integration power. Seeking to constantly enhance and expand these strengths, our top priority is developing human resources that are equipped to think and act for themselves. By coming up with new strategies and leveraging new technologies, we give our clients exactly the solutions they need.
Supporting the globalization of business through "Japan­quality" systems overseas
The globalization of business is progressing across a wide range of sectors. We offer a palette of IT solutions designed to enable global orientation of the entire supply chain including procurement, manufacturing, and marketing. We also have established a highly responsive framework for assessing the IT needs of our clients'overseas subsidiaries. This involved setting up NSSOL subsidiaries in various locations around the globe, including the U.S. (1997), China (2002), Singapore (2011), the UK (2013), Thailand (2013), and Indonesia (2014). While ensuring that the quality of systems and services remains on the same excellent level as in Japan, we are actively hiring and training local staff.